HUNTER ORCS
" The Hunter orcs were a ruthless group of Orcs who followed Fimbul and Yazneg, who served Azog. The Hunter Orcs that roam the lands east of The Misty Mountains are a particularly aggressive kind of Orc. In the Third Age, the Orcs of Angmar yet again claimed it as their capital, which was one of the reasons for the dwarves' special hatred of this people. After the fall of Angmar, Gundabad remained an Orc stronghold, until it was cleansed of orcs during the War of the Dwarves and Orcs. However, hordes of orcs seem to have trickled back to this hotly contested strongpoint and fortified it anew during the events of The Hobbit, menacing the Wilderland for yet another time. Azog, was the supreme commander of the Orcs from Gundabad, and presumably the northern Misty Mountains."
Her er mitt forsøk på å få folk til å diskutere enheter tactics osv med visse armeer
Så hvorfor vil du spille en Hunter Orc army?
Pros
• Ganske powerfull og medium/high level heroes med høg fight og attacks (very uncommon for orcs)
• Generelt høy styrke og mange angrep
• WARGS!
• masse buer
• special rules som får motstanderen til å bite negler.
• fine modeller!
Cons
• Lav fight value borsett fra de store herone
• Mye light armor.
• Orcs... Lav courage!
• Dyre sammenlignet med andre orcer.
• Ingen spears / shields
Konklusjon : 8/10
=====================================================
Azog
"Azog was a mighty Orc chieftain and a defiler of the dead. He was slain long ago, at the hands of Dain Ironfoot, and never heard of again. Now, however, rumours tell of an Orc matching his description who rides a white Warg..."
Pros
• Mye will/might
• Høy statline med fight og courage
• Burly (trengs ikke å vite mer
)
• skader heroes no matter the defence på 3+
• The white warg for enda mer Might/will/fate
• two handed mace
Cons
• Veldig dyr! (enda dyrere med white warg)
• Only 1 Fate!!
• Defence 5 for en dyr modell auda jaja trenger en del cover denna gutten!
Tactics:
• Han er dyr og hæren din trenger han mye hvis du spillern, så anbefales sterkt å ha i grupper med orcs til fots /wargriders / wargs får å få så mange som mulig in the way rolls man kan få. Han har fighten til ett monster så plukk kampene du vet du kan vinne (oftest 4 attacks med white warg)
• Play for the kill: Hovedsaken med Azog er han er en Hero hunter! siden han alltids wounder helter på en 3+ med masse attacks og fight 7 er han optimal!
• mounted is the best!: og her er hvorfor ofte kommer du til å møte MYE til fots med mindre du spiller mot rohan og få dobblet dine attacks er sykt bra når du vinner kombat. Du kan bruke alle action pointsa til wargen når man trenger det spesielt når du slåss mot monstre/helter med fight 7 eller høyere og du vil bruke heroic strike.
• low in numbers: Det er desverre sant når man spiller Azog fordi han koster en del. Det er derfor nesten alltids best å ha en del hunter orcs til fots eller plain wargs fordi de er billigere og orc tacticen er oftest å swarme. Men ikke med Azog! ¨WAAAAAGH!¨
Ikke sløs han bort i kamper du vet du kan tape med hans lave defence det er bedre å redusere motstanderens army til broken så fort som mulig.
Konklusjon 7/10
Bolg
"Ruthless and brutal as his father..."
Pros
• bra med might/will
• Meget bra profil med høy fight, styrke og courage
• Burly
• Defence 7! (u jelly azog?)
• two handed pick
• harbinger of death
Cons
• Dyr (som azog)
• Bare 1 Fate
• No warg!
Tactics
• Samme tactics gjelder bolg som azog med noen små justeringer.
• Løp inn for harde livet inn i combat så fort som mulig men vanlige tropper! du vil så gjerne benytte deg så mye som mulig med hans Harbinger of death regel før han tar på seg av helter.
• whos the boss lads!? Når han har drept en del modeller (10) så blir han basicly Aragorn på slagfeltet med bedre Styrke og fight gratis 1 might per turn er IKKE noe å ignorere.
• no mount for him: Som sagt kan han ikke ha en warg derfor er det alltids verdt å ha en expendable helt for å bruke ett might for heroic march å garantere en turn 2 charge for Bolg.
Konklusjon: 8/10
Fimbul the hunter orc
"Fimbul is a vicious fighter and an experienced tracker who will doggedly pursue an enemy without ever tiring of the chase..."
Pros
• Mye might
• Bra fight value og courage
• expert rider
• hunt master rule
• cheap!
• Kan ta Warg
Cons
• 1 Fate
• 1 Will
• lav defence
Tactics
• Han er ganske billig og ekstremt brukar, noe de fleste modeller og ganske sjeldent for orcer, han er en expert rider!
• Ta han på en warg! siden de fleste av reglene hans skriker etter å ha han på en warg for å være best.
• Hans special rule som ignorer difficult terrain og penalties for det. (basicly elf rider)
• Han har Fight 5 for en ORC captain! (normalt 4) han kan holde seg opp med de fleste captains og troops.
• Jeg anbefaler å bruke han til alt av random stuff som kommer til å skje i løpet av kampen counter charges osv men som Azog anbefales det ikke å gå rett inn i kampen han er forsatt en orc og tåler ikke mye. ikke har han Many blades special rulen som de andre hunter orcs captains har.
• For hans Special rule og point cost er han en MUST have for alle hunter orc armies.
Konklusjon: 10/10!!
Narzug
"Narzug is an expert shot even from the saddle of a racing Fell Warg. "
Pros
• Mye might
• Veldig bra shooting for en orc til å være, Bra courage.
• expert rider
• lethal aim
• cheap!
Cons
• 1 Fate
• 1 Will
• lav defence
• orc bow
• Kan ta Warg
Tactics
• Han er ganske billig og ekstremt brukar, noe de fleste modeller og ganske sjeldent for orcer, han er en expert rider! (fimbul pretty much)
• Hans special rule kan være litt tricky men ganske nyttig ett gratis might point kan bli brukt når han skyeter med buen,bare synd at det er en orc bow.
• For hans regler og point cost så er han den Helten som en hunter orc army må ha (nokk en gang) mesteparten fordi pointcost og antall might.
Konklusjon: 9/10
Yazneg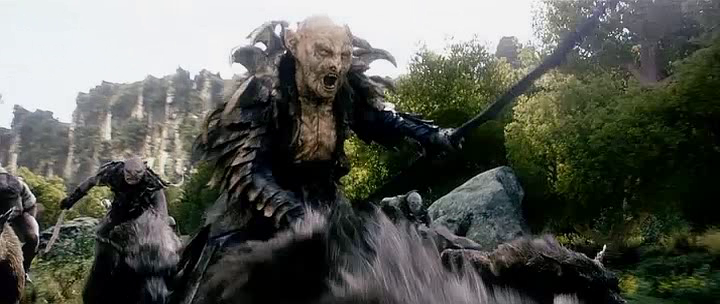 "Yazneg is the brutish and cruel captain of the Hunter Orcs. He leads his vicious band of creatures in an effort to track down and kill Thorin's Company – and anything else that gets in his way."
Pros
• Mye Might
• Bra courage
• expert rider
• lance
• cheap!
• Kan ta Warg
Cons
• 1 Fate
• 1 Will
• lav defence
• hans special rule
Tactics
• Han er ganske billig og dreper ting litt lettere takker været hans lance uppgrade og i forhold til andre orcer så har han expert rider(see the theme here?)
• Ta han med en warg siden han blir litt mer beast i combat med sin lance.
• Hans special rule er ganske råtten og irriterende. den er brukerbar med hans..¨sacrifice¨ med azog og auto pass courage (standfast) og alle orc captains reroller breaking tests det kjipe det er ikke alltds du har han på rett plass til rett tid.. siden han må være i base kontakt med Azog for at det skal fungere..(som gjør den litt dårlig)
• Han har en svak fight value i forhold til Fimbul mer som en normal orc captain i main stats, men siden han har lance tar det litt opo for hans lavere fight value.
•Han kommer med en to hånded axe så piercing strike er ett option når men uten weapon master og burly og ellerede en lav(ere) fight og lav defence er det nokk ikke alltids verdt det å heller holde seg til Lance og warg.
Konklusjon: 7/10
Hunter orc Captain
"The Captains of the hunter Orcs serve as the right hand of Azog, a relentless band who will stop at nought to slay his quarry. ."
Pros
• grei stat line
• many blades rule
• cheap!
• uppgrades.
Cons
• 1 Fate
• lav defence
Tactics
• Han er veldig billig og ganske bra i combat, jeg anbefaler å ha han til fots så han får sin Many blades bonus slik han blir en A3 model! men med en fight av 4 så ikke en hero killer, han er litt nasty for å koste litt mer enn en goblin captain med en standard defence på 5 mye for penga her!
• svaket andre heros for hans fight, men 3 attacks til fots noe normalt named heros pleier å ha. bumper han litt opp.
• Han er best brukt med beskyttelse av en shield wall av orcs og når linjen krasjer for å drepe fienden å åpne hull til å assaulte inn med.
Konklusjon: 9/10
Hunter orc warriors
"The fast-moving and fanatical Hunter Orcs serve as the right hand of Azog, a relentless band who will stop at nought to slay his quarry."
Pros
• Høyt med styrke og angrep
• Bow / two handed weapon
• Warg!
Cons
• Dyre for Orc standard
• Lav defence
• samme svakhet som orcer Generelt
Tactics
• Hunter orcs er bakbeinet til en hunter orc army og de mest dødelige. Hvis du tar dem vill jeg anbefale å ta så mange til fot som mulig å få en horde.
• De har en lav defence men svakheten av armor buffes en del med Many blades special rulen, 2A per orc med en styrke på 4 er massivt. de kan klare seg mot en shield/spear wall med sitt antall angrep siden de er billigere en to modeller.
•Normalt hører du at folk ikke anbefaler å ta dem på warg pga ingen many blades special rule men jeg vil si 50/50 hvis du kjører Azog og the white warg så kan du alltids gå av wargen og de auto passer så lenge de er innenfor the white wargs(steadfast) + Ignore line of sight reglen til wargs er ikke noe å le av, de kan charge modeller med Elven cloaks for eksempel.
•Hvis du spiller med Gundabad så er disse perfekt for å ha spear support bak 3 angrept på styrke 4 er få som kan få til for den poengsummen
Konklusjon: 9/10
Fell Wargs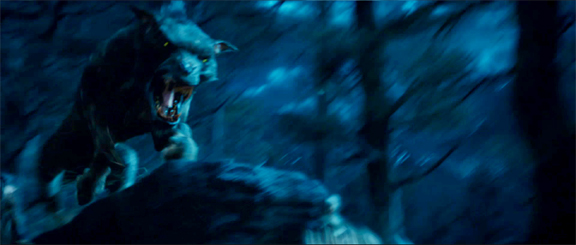 ¨Powerfully muscled, with thick matted fur, Fell Wargs would be considered fearsome even before one saw the dark glow in their eyes and realised that they are possessed by a sinister eldritch force.¨
Pros
• Høy styrke
• Bra movement
• Sight regelen
Con
• Lav courage
• forsatt bare en warg (lav D)
• Dyr(no pun)
Tactics
• Med sin special regel så kan disse wargsa Gjøre noe folk aldri har sett før! Charge uten line of sight! dette er perfekt for de som spiller med mye terreng, mye modeller i veien osv.
• Fell wargen kjent som Pappan til gamle wild wargs fra Mordor/moria osv har en fin styke på 4! noe som hjelper en del for å ta ned D6.
• Fell wargs benyttes best med Azog og the white warg på plass mest fordi Stand fasten fra White warg som tidligere nevnt.
Beste måten å få flest mulig wargs på er å kjøpe de som Mounts for Hunter orcs og hoppe av (bare hvis du spiller med White warg) så får de auto pass sin courage Hvorfor? Fell warg upgrade er 1p billigere en å kjøpe dem separert og som orcs så teller hvert poeng!
• Som Cavalery er de best for å flanke med men enda bedre som nevnt tidligere pga sin special rule.
Konklusjon 8/10
-Andreas J.