Dette blir ikke en ordentlig battle report. Mer 12% av en battle report (ye have been warned).
Spilte altså enda en 1500 points kamp mot Frederique. Jeg spilte som vanlig dverger (come at me!) og Fred spilte med sine alver (måtte han brenne). Som gamle Warhammer-spillere har vi allerede så og si komplette Kings of War hærer. Og reglene er like nok til at de kommer veldig naturlig.
Først må jeg nevne at brettet var dominert av et impassible terrain i form av et tårn midt på. Og at dette selvfølgelig dominerte deployment. Begge hærene ble satt ut i to deler på grunn av dette dumme tårnet.
I bildet over vises det berømte tårnet og alvenes forsøk på å bruke det for å beskytte sin flanke. Jeg hadde satt opp skytingen min slik at jeg hadde en "death zone" på min venstre flanke. Fred holdt seg derfor tilbake på den siden av tårnet med unntak av noen lure Treekin som snek seg opp på min ytterste venstre flanke i et forsøk på å ta ut noe av skytingen min. For ikke å snakke om en Bolt Thrower som ikke ville la min Organ Gun være i fred
Outranged...
I bildet under kan dere se Treekin som allerede hadde pøyd seg gjennom en Ranger unit og en kanon før de blir stoppet av et regiment med top notch Dwarven Riflemen og en Battle Standard.
Fred´s andre flanke hadde en litt dårligere dag. En unit med Elven Knights, som hadde linet seg opp for en charge inn i den blodige kampen ved tårnet, kom under noen heftige salver fra en unit med Dwarven Crossbowmen og en liten unit med Dwarven Rangers. Faktisk så heftig regn av piler at de galante ridderne ikke klarte å charge inn i combat (Wavering). Dette var et skikkelig Total War moment. De som har spilt Total War har sikkert fått erfare når en unit starter å breake og du kan ikke få den til å gjøre det du vil uansett hvor mye du trykker med musa og skriker mot skjermen. Ta en titt på det dramatiske bildet nedenfor for å få en visuell representasjon av situasjonen.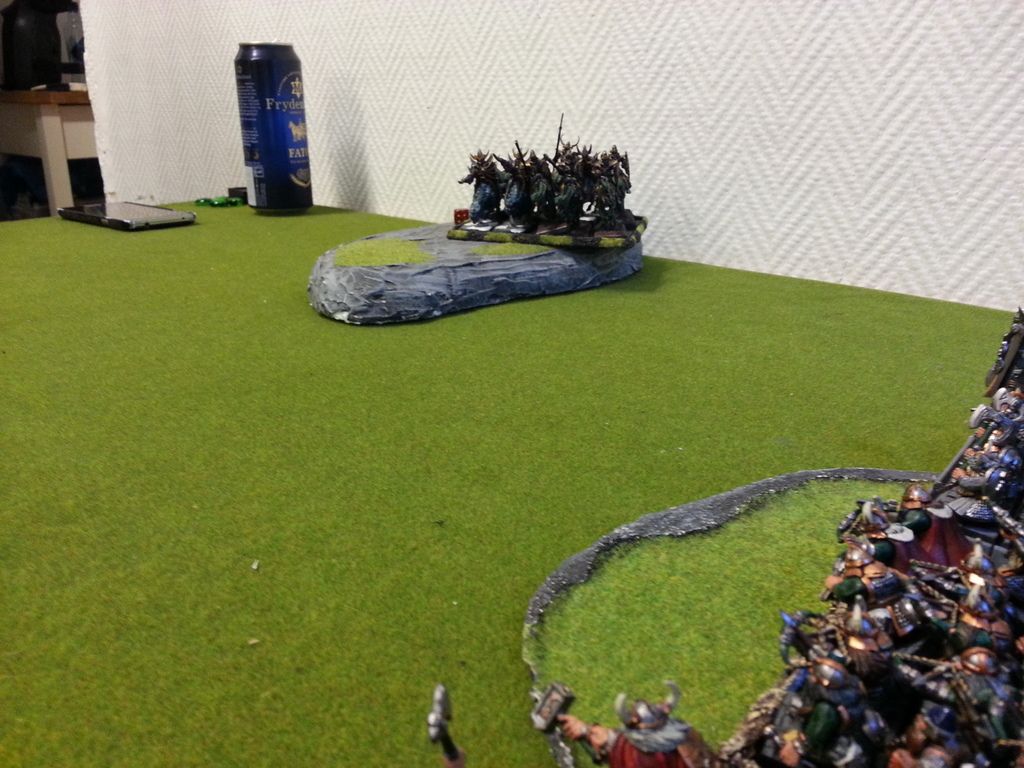 Bildet under viser deler av det blodige slaget i midten etter at en unit med Dwarven Shieldbreaker har kastet seg mot alvene og påført store skader. En horde med stålharde Dwarven Ironclad from the Iron Hills and Veterans of the Goblin Wars charger inn for å påføre nådestøtet på alvene som på dette tidspunktet var ganske gule og blå.
Det ble en seier til dvergene denne gang og enda en morsom kamp!
Som nevnt over så er det en fordel å være gamle Warhammer-spillere da vi har flust av hærer vi kan bruke til å spille Kings of War. Neste gang bringer jeg kanskje frem mine Ogrer!