Ja, i dag er jo egentlig fristen for de siste 500-poengene og med det en fullverdig 2000-poengs army selv om Thomas ikke har skreket høyest om dette.. I wonder why? ;p
Jeg har fått malt litt og siden sist har jeg fullført 28 Shieldbreakers som jeg har satt sammen til å bli 1 regiment og 2 tropper. Slik kan jeg i tillegg lage 1 horde eller 2 regimenter.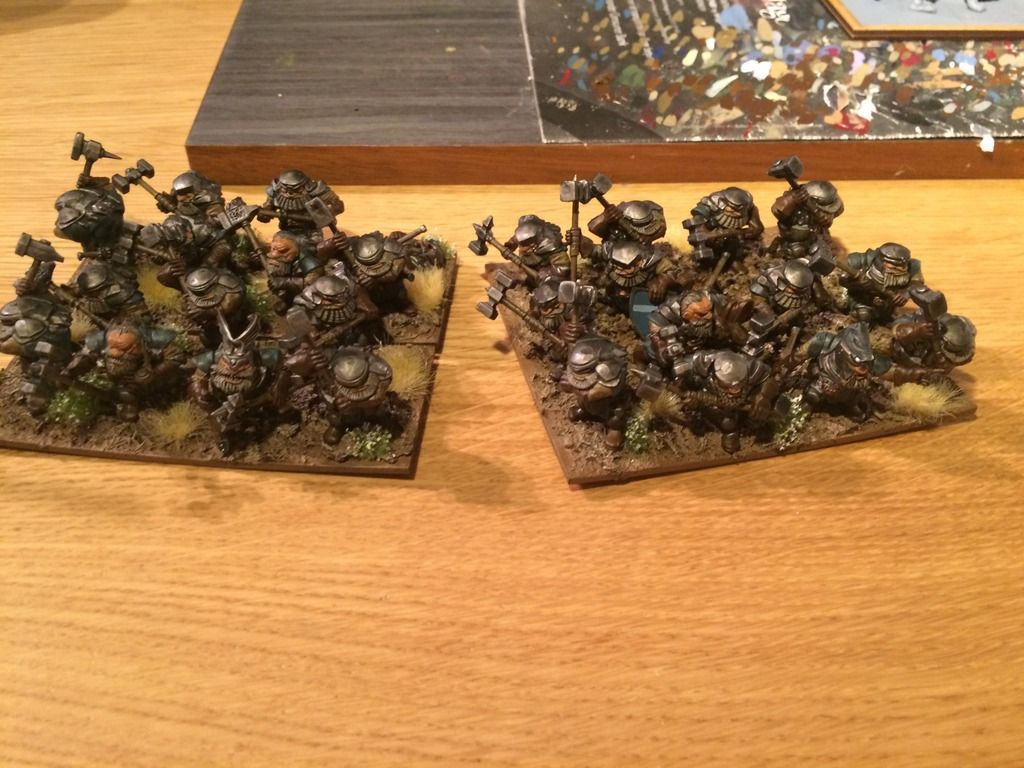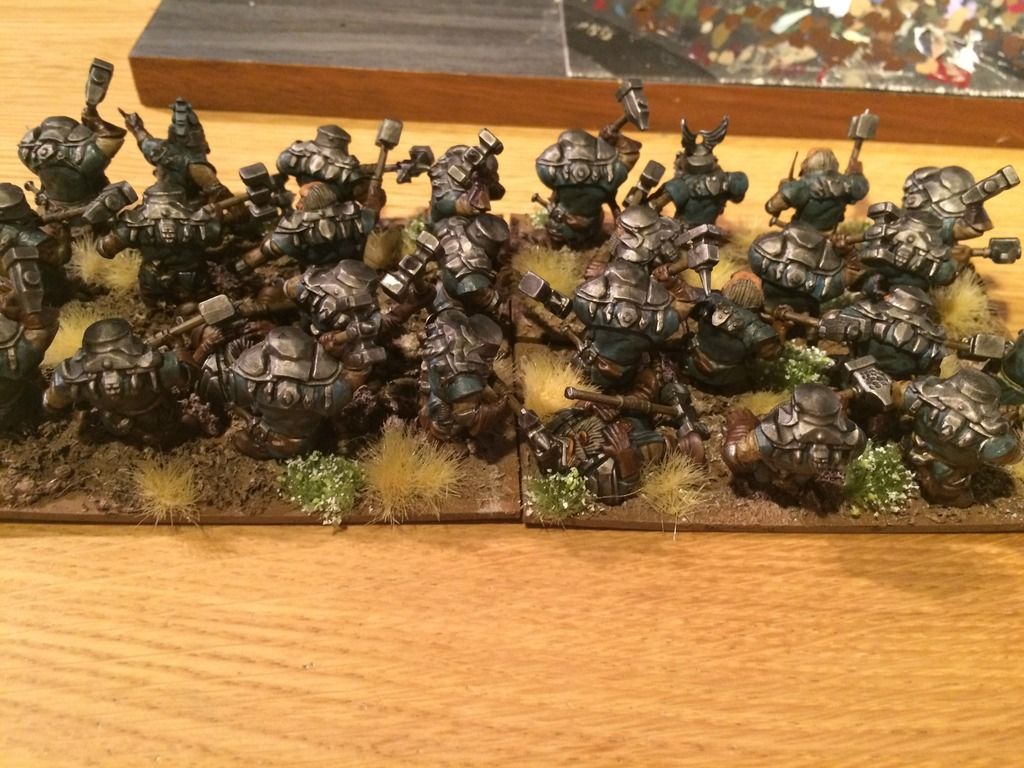 I tillegg har jeg malt opp Berserker Lord on Brock. Det vil si jeg har malt figuren Sverri Egilax og satt han på en cav base (special charactern er på 50x50). Planen er etterhvert å lage en 50x50 base som inkorporerer cav-mounten dersom jeg skulle ønske å bruke han som Sverri. Forøvrig en veldig kul figur å male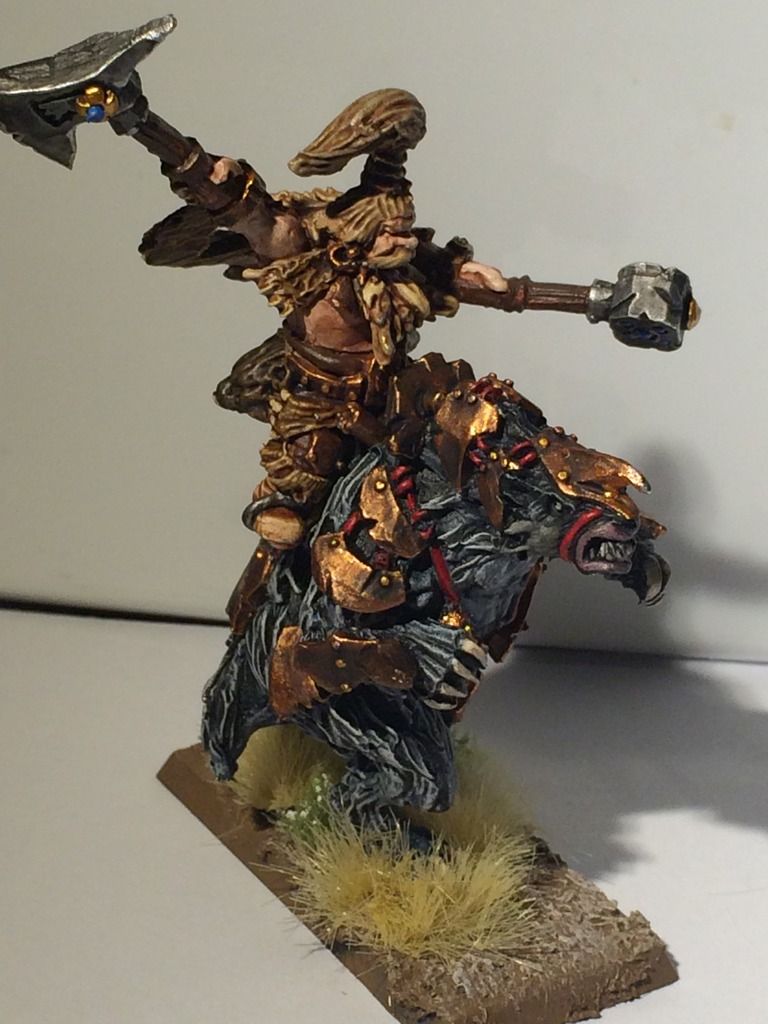 I dag spilte jeg også et 2000p slag mot Thomas BA på klubben i tillegg til et mega battle 4000p v 4000p med Thomas BA mot David og Eirik (håper dere tok noen bilder boys og kan legge ut for jeg glemte det med alt tidspresset :p). Under begge kampene så stilte jeg med følgende 2000p-liste hvor alt er malt (mangler 2 tropper med Riflemen for å lage horden):
Regiment med Bullwarkers
Regiment med Ironguard (bruker modellene jeg har malt som Ironclads)
Regiment med Ironguard med Blade of Slashing
Regiment med Ironguard med Fire Oil
Regiment med Berserker Brock Riders med Brew of Strenght
Horde med Ironwatch Riflemen med Jar of the Four Winds
Horde med Shieldbreakers med Maccwar's Potion of the Catepillar
Organ Gun
Organ Gun
Army Standard Bearer
Army Standard Bearer med Healing Charm
Berserker Lord on Brock med Medallion of Life
Rordin the Dwarf
Og her er et bilde av alle gutta samlet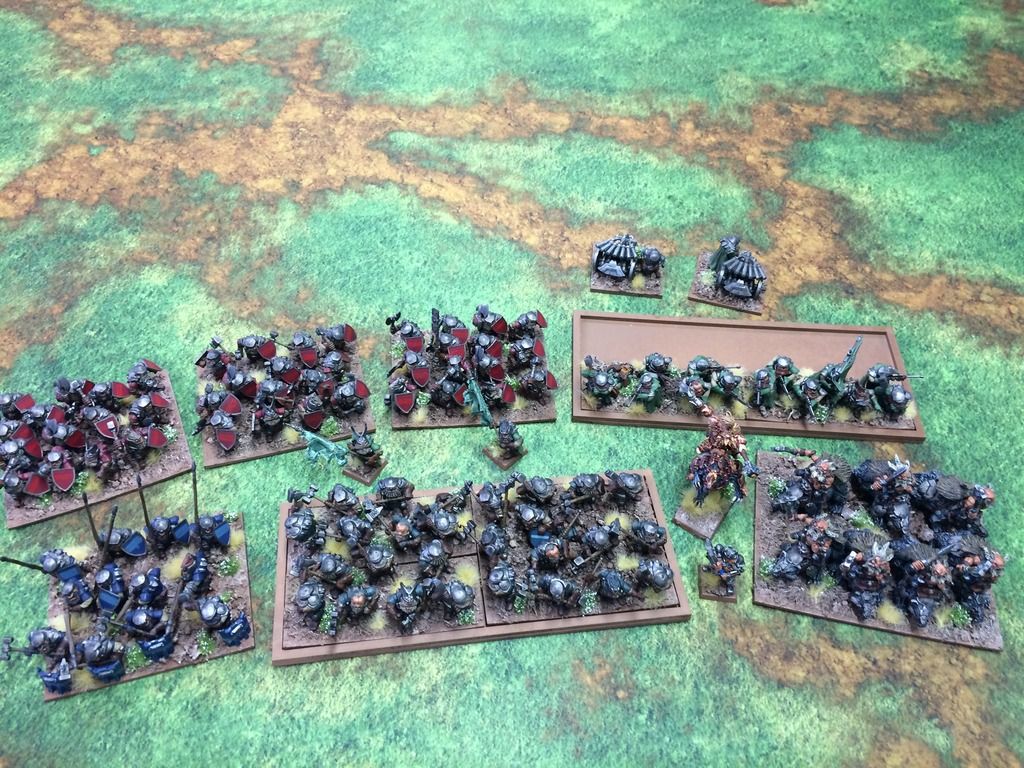 Så nå er det nesten nøyaktig 4 måneder siden jeg åpnet boksen med Dwarf Mega Army og alt i alt har jeg nesten fått malt opp en spillbar 2000p-hær. Jeg må jo si at det har vært veldig motiverende å få ferdigstilt enheter litt etter litt og se hæren vokse,og ikke minst se at det er mulig å få laget en hær innen rimelig tid.
Så nå er planen videre:
Å få malt opp to ytterligere tropper med Riflemen.
Jeg har også noen flere War Engines jeg kan legge til.
I tillegg har jeg satt sammen og grunnet to tropper med Rangers.
På sikt så skal jeg garantert skaffe meg Earth Elementals som Mantic avslørte forleden
Jeg har allerede lagt til side en stk Greater Earth Elemental.
Så får jeg se hva jeg får til av noe lurt ifht Stone Priest, for hele hæren skal være Mantic
Og så skal man ikke se bort i fra at jeg plutselig åpner en Mega Army med Ogres i nær fremtid