Moderator: Deng_Ham
Har malt meg en Valley Class Airship.
Må si meg ganske fornøyd.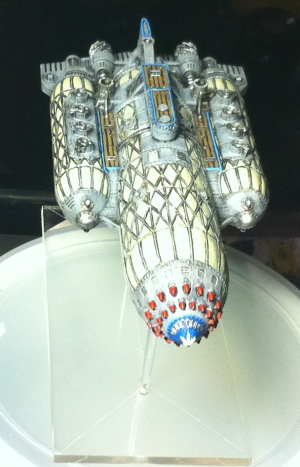 ---
Det ser veldig fint ut
Necrons, Grey Knights & Khador
---
Awesome!
"We love Him because He first loved us." 1. John 4:9-10
---
Hvor kan jeg finne et fornuftig review av dette spillet?
Hvor stort spillebrett bør man ha for å spille dette spillet?
---
Archangel
Posts: 2800
Joined: Sun Jan 18, 2009 4:05 pm
Location: Oslo
6 x 4 er helt klart å foretrekke. Jeg vet ikke helt med fornuftige reviews. Det er miljøer for det i Oslo og Bergen, vet jeg - prøve det der, kanskje?
---
Har hørt snakk om at enkelte butikker i oslo har disse figurenen. Jeg har snakket med begge outland butikkene uten hell, de vet ikke hva dette er en gang...
The avalanche has already started. It is too late for the pebbles to vote.
---
Archangel
Posts: 2800
Joined: Sun Jan 18, 2009 4:05 pm
Location: Oslo
Da har de dårlig oversikt over sin egen butikk, det står masse Dystopian Wars i figurhyllene på Outland Kirkegata - det er til høyre i butikken, bak Lego-hyllene.
---
Juggernaut
Posts: 1201
Joined: Fri Dec 04, 2009 9:41 pm
Location: Oslo
RESURRECTION! tittet da litt på det nye 28mm skalaen til dystopian war å må inrømme at de figurene så ganske så fine ut, så noen som hvet noe som helts om spillet o.l.
"QUICK! STABB YOUR SELF FOR SAFETY!
you almost did it, didn't you?"-Richard (LFG)
"Id rather die then go to heaven."- William Murderface
Khador
: We bring the axe, you bring the face.
---
---
Det blir "mest sannsynlig" Dystopian Legions demo på NM, så det så...
Vår mann sa det var skirmish-nivå, men med litt høyere body count enn Warmachine
---