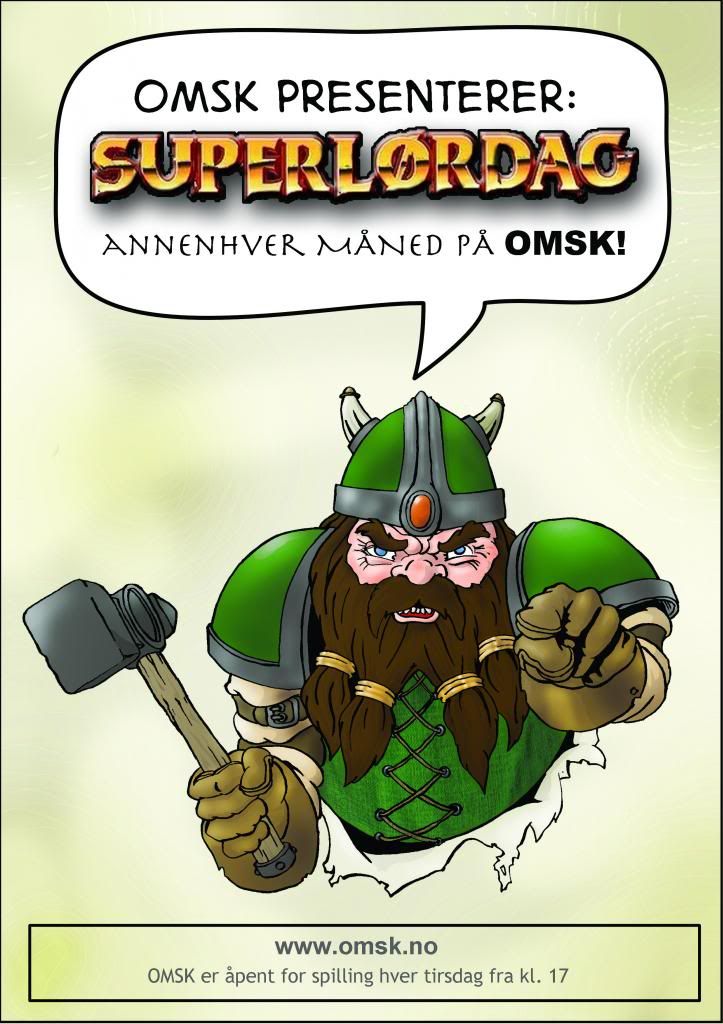 Start det nye året med Superlørdag VIII !
Lørdag 11 Januar
Kl 09:30 til 21:00
3 slag - 2000 poeng (+300 for Wood Elves, Tomb Kings og Beastmen)
Pris: 150kr (+50 for nye medlemmer)
Lukkede lister.
Ingen ekstra restriksjoner på hæroppsett.
Half points for fleeing units, og units redusert til 25% eller mindre.
+200 VP for å drepe en Special Character.
Ingen malekrav, ingen malepoeng, lov å proxe figurer.
Scenarioer (fra
Sheffield Slaugher regelpakke
)
KAMP 1: MEETING ENGAGEMENT
This is identical to the Meeting Engagement Scenario given on page 149 of the Warhammer Rulebook

KAMP 2: CAPTURE THE FOREST!
This scenario is identical to the Watchtower scenario given on page 150 of the Warhammer Rulebook, with the following specific exception.
Instead of a building being placed at the centre of the table, a Blood Forest should be placed at the same point. The forest, as a guide, should be around the same size as a GW or Battlefront forest. For ease, the Blood Forest has the following rules (found on page 119 of the Warhammer Rulebook)
o Whenever a spell is successfully cast by, or at a model in the forest, all units wholly or partially in it take D6 S4 hits.
o When the hits have been resolved, the forest will then move 2D6" in a random direction.
In order to capture the forest, any Infantry, Monstrous Infantry, Cavalry or Monstrous Cavalry chosen from the Core or Special sections of their army book must have the majority of their models within the forest. Each unit will give the following capture points
-
o Infantry: 1 point
o Cavalry: 2 points
o Monstrous Infantry : 3 points
o Monstrous Cavalry: 4 points
o Banner: +1 to the units score.
At the end of the game, count up how many capture points you have, with the
player with the highest amount of capture points receiving a bonus 1,500 victory points. As an example, a player with 2 units of infantry and a unit of cavalry in the woods will gain 4 capture points, whilst a player with 2 units of monstrous infantry would have 6 capture points.
A single core unit of up to 20 infantry models
may
(min utheving) be placed as normal, and have to fit entirely within the wood. They cannot leave it under any circumstances until turn 2
KAMP 3: DAWN ATTACK
See page 145 of the Warhammer Rulebook.
Pga stor pågang og et ønske om å teste ut nye freshe løsninger, innføres det forhåndsbetaling for å booke plass på denne turneringen.
Betaling kan refunderes senest 24 timer før turneringsstart (krever skriftlig avmelding på PM til arrangør før dette).
150 kr i turneringsavgift betales her:
+ husk å ta med kr 50 i årsavgift, betales på selve arrangementet!
Betalt påmelding: (19/26)
Trond Bergsrud
Kenneth Solli
Hans Kjenes
Mats Aubell
Geir Vedeld
Håkan Johansson
Stian Engebretsen
Erik Svendsen
Julian Martinsen
Øyvind Thomassen
Vidar Hemmingby
Aleksander Aasen
Sverre Reikvam
Øystein Berg
Thomas Aleksandersen
Kim Roar Bergene
Joakim Johnsen
Christian Brubakken
Aleksander Blomqvist
Challenges
: (møter hverandre i kamp 1)
- Trond har issued en challenge mot Vidar! - accepted!
- Hans har issued en challenge mot Erik! - accepted!
- Øyvind har issued en challenge mot Mats! - accepted!
- Håkan har issued en challenge mot Øystein! - accepted!